BVM Bags and Pocket CPR Masks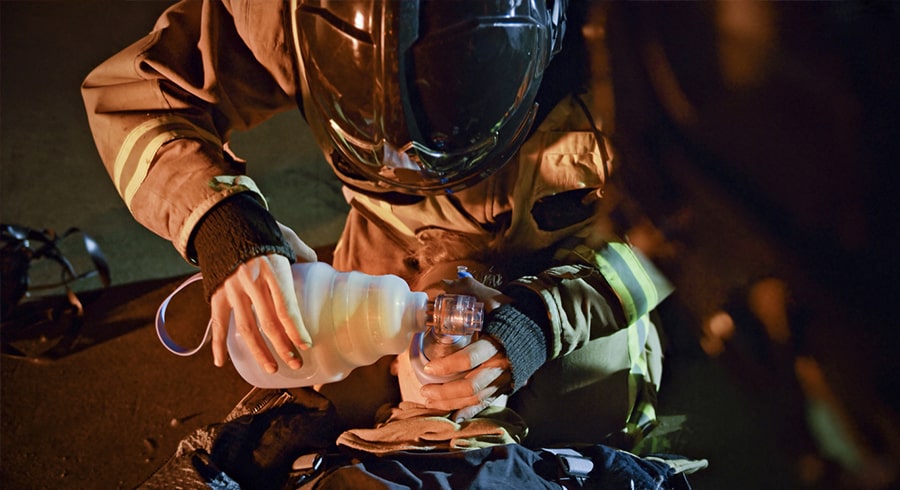 If you've been fortunate enough to never have to call emergency services to your home due to a medical crisis, it might come as a surprise that it's common for police officers to be the first on the scene of a medical emergency due to their proximity to local events. Much like the RCMP's Emergency Medical Response Team (EMRT), most police officers in the US receive emergency medical response training and equipment so that they can offer life-saving assistance until paramedics can arrive at the location.
On a December afternoon in Moorpark, California, this training and equipment made all the difference in saving the life of a 60-year man who had collapsed in his home. Two local deputies were the first to arrive on the scene, and immediately realized the man was in significant respiratory distress and was unable to breathe. Acting quickly, the two deputies began performing two-person CPR on the victim, utilizing a bag valve mask (BVM) and contemporaneous chest compressions. Using the BVM was new to both deputies, having just learned how to use the BVM the previous November, when they also began carrying the life-saving apparatus in their squad cars. Thanks to their new training and ready access to reliable equipment, they were able to stabilize the man's breathing, and ultimately save his life.
What Exactly is a Bag Valve Mask (BVM) Device?
Bag Mask Ventilation is considered by many medical experts to be the cornerstone of managing proper ventilation in a patient suffering from a respiratory emergency. While it may seem like a straightforward device to use, knowing how to properly operate a BVM requires a great deal of skill and training. A recent study showed that even with the most experienced paramedics at the helm, as many as 65% of emergency personnel perform the task incorrectly and as many as 56% use the apparatus itself inaccurately. Numbers like this indicate the importance of both regular training refreshers and the best equipment to be available for all emergency medical professionals.
A BVM apparatus dispenses oxygen to the patient and has two key components: a self-inflating bag on one end, and a face mask on the other. In between is a non-rebreathing valve that joins the two main parts together. The mask piece is held in place by the second responder. Masks typically come in different sizes that vary depending on whether the patient is large or small, and they are also equipped with a cuff made of a sponge-like material that molds to the face, making for a better seal around the mouth and nose.
Designed to provide ventilation for the patient until a successful intubation can be accomplished, BVMs depend on several key factors to be successful. It is crucial that the first responders are trained to depress the bag at the right rate of speed and maintain the correct level of inflation to prevent hyperventilation or gastric distress. Equally as important is that the correct mask hold is being used to ensure the patient is receiving maximum benefit from the process.
In addition to having expert technique, it's imperative that paramedics have the most up-to-date apparatus on the market to ensure they can count on it working correctly when needed most. At Vereburn, we carry both the AMBU® and the o_two ™ lines of BVM devices, two of the highest rated BVM apparatuses.
Pocket CPR Masks in Use
When confronted with a resuscitation emergency, response personnel do not always have the luxury of using a more expensive type of resuscitation unit due to budget constraints. Even if the equipment is available, it is not always possible to wait to obtain the equipment before resuscitation efforts need to commence.
When used correctly, mouth-to-mask resuscitation efforts provide the same results as mouth-to-mouth rescue breathing and can be an easier option than a BVM because it requires less training and skill than the BVM method. Additionally, it allows for the paramedic to have both hands free for chest compressions if needed.
Pocket CPR masks are placed over the patients mouth once the rescuer has ensured the victim's airway has been properly cleared and opened by tilting their head backwards via their chin. The responder then applies their mouth directly over the valve and exhales through the through it to ventilate the patient.
Pocket CPR masks come in a variety of sizes to ensure the proper fit for the patient is secured. There are many different brands and styles of pocket CPR masks on the market today, but those that are consistently rated the best include the AMBU® series and the LAERDAL® series of masks, both of which we are proud to offer here at Vereburn.
BVMs and Pocket CPR Masks in a Pandemic World
While BVM's and CPR pocket masks have long been in use by the medical community, in the wake of a worldwide pandemic, these devices are being utilized with increasing regularity by emergency services personnel to enable them to continue to offer life-saving treatment while keeping first responders safe from possible contagion. As the impact of Covid-19 continues to linger throughout the globe, it's likely that more first responders will opt to stock BVMs and pocket CPR masks in their vehicles and ensure proper training of both apparatuses is in place. Both products offer life-saving respiratory care when it is needed most.