Merit of MERET®Bags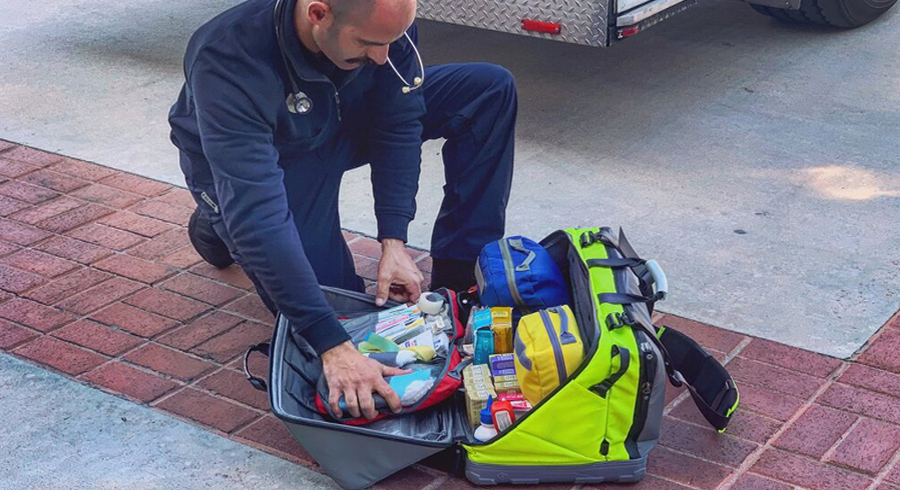 As an EMT/ Firefighter with the St. Paul, Minnesota Fire Department, David Flanigan has responded to just about every emergency medical call one can imagine, and even some that go beyond the scope of imagination. As a 16-year veteran of Engine Company 9 on the East Side of the capitol city, Flanigan and his crew are continually called upon to help others in life-threatening situations while putting their own lives at serious risk in the process. Firefighters are often the only thing that stand between life or death at the end of a 911 call, and as such, it's essential that their gear and equipment be not only incredibly durable and reliable, but also provide the highest level of ease of use and functionality in a crisis scenario. Having the medical supplies needed at the ready in an organized and protected environment is crucial.
"When I am the first to respond to a car accident call or am trying to save someone's life who was just pulled out of a fire, I have to ensure I have every life-saving tool and supply I need at the ready," says Flanigan. "Seconds mean the literal difference between life and death. There isn't time to be searching for something in my gear bag or to try to find it on the truck."
This is why MERET® Equipment bags have been the premiere choice for First Responders for years.
"Every First Responder I know relies on and chooses MERET® bags for their first aid equipment," says Flanigan. "With my MERET® bag, I know where everything is, it's designed so I can customize it and have everything organized to maximize life-saving time and efforts."
Known for their unsurpassed quality, scalability, and functionality, MERET® bags are built specifically for the first responder professional, allowing them to deploy medical care rapidly and proficiently during the most critical moments of an emergency.
"I never know for sure what I am walking into when responding to a 911 call," says Flanigan, "I need to know I can rely on the equipment I have with me to do the job. I wouldn't rely on any other gear bag but MERET® to do that."
The OMNI™ PRO X Bag from MERET®: Innovation for Today's First Responder
Think of all the scenarios where firefighters are expected to engage in and provide emergency medical care — either for civilians or for fellow firefighters. These can be anything from ambulance runs to caring for an injured person at a fire, a vehicle-crash scene to remote wilderness locations, supporting Law Enforcement on the scene or having to go into an active shooter situation on their own…the list can go on and on. When you're tasked with providing optimum emergency care in these many different and highly charged environments, it's obvious that having the right gear is absolutely vital. Fortunately, MERET® understands the complex and varied scenarios that First Responders deal with on a regular basis and have designed their OMNI™ PRO X Bag series to answer the call in every possible emergency.
By utilizing the best tech available and invaluable feedback from First Responders themselves, the OMNI™ PRO X Bags provide Emergency Professionals with a bag that they can rely on in any given crisis situation.
• Adaptability The OMNI™ PRO X Bag series uses specialized interchangeable modules, which provides the first responder with the ability to customize the bag depending on their requirements. The modules can be labeled for easy identification and stowed inside the main compartment of the bag or can be fastened to the front MOLLE panel for ease of use. The main internal compartment itself can be customized to effectively organize large and small items by using their unique slider system as well. Additionally, the OMNI™ PRO X Bags offer external and internal pockets and pouches to offer additional quick-access storage, allowing the First Responder to create unprecedented, individualized in-the-field functionality.
• Access Using MERET®'s OneView™ technology, the OMNI™ PRO X Bags can be fully opened facing one direction, which provides immediate access to all compartments, saving invaluable time in a crisis scenario. A large front pocket offers the space needed for longer emergency equipment like intubation aids or oxygen tubing.
• Protection OMNI™ PRO X Bags are standouts from the pack for a variety of reasons, but especially because of their incredible, optional safety and protection features. First responders can choose the Infection Control Complete (ICC) version, which is constructed from non-absorbing, impermeable wipe clean materials designed to easily clean and remove blood borne pathogens.

The OMNI™ PRO X Bags are also available with NIJ certified Level IIIA M4L Ballistic Armored Protection, which can withstand multiple ammunition rounds, even from a .44 MAG. Constructed into the rear pocket of the OMNI™ PRO X backpack design is an armored ballistic panel, which when harnessed on the front, defends the carrier's vital organ region. This feature provides unmatched protection from a First Responder tasked with entering an unsecured shooter scenario, allowing them to render aid to the wounded and evacuate the injured when it is needed most.
• Design The OMNI™ PRO X Bag series are specifically designed to be both highly ergonomic and versatile, and can be carried as a backpack, a shoulder bag, or a briefcase style. The backpack harness isdesigned to provide a snug fit, and stays secure whether the First Responder is running, climbing, or descending, and also includes padded lumbar support to ease stress on the back and spine. Among its many other design features, the OMNI™ PRO X Bag series includes reflective front/back/side panels, tie down loops, and comes in a variety of emergency ready colors.