Top 5 Infection Control Measures for Your Facility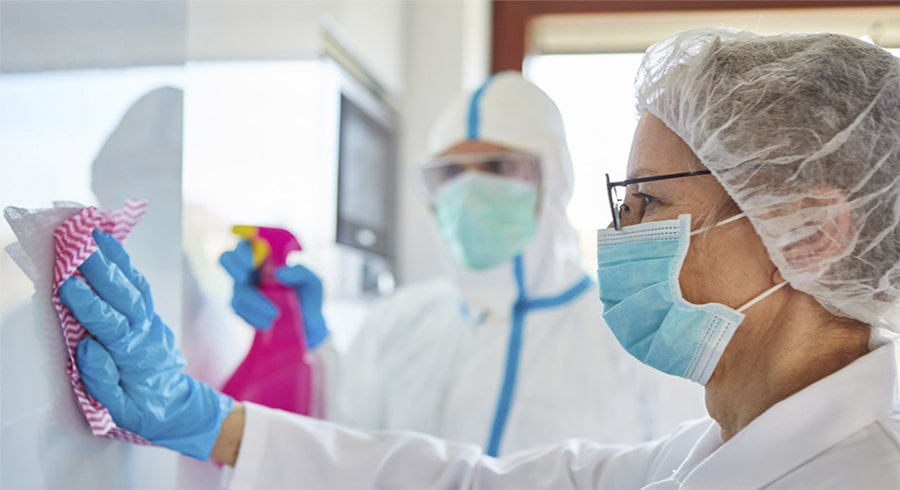 A good infection control program starts with prevention and ends with containment, disinfection, and cleaning. According to the World Health Organization (WHO), annual financial losses due to healthcare-associated infections are estimated at approximately $10 billion CAD.
What measures can you take to prevent infection spread? Here are our top-five recommendations:
1. Hand Washing
Did you know that in the healthcare field, only about 40% of professionals follow a proper handwashing protocol? Providing easy access to antibacterial handwashing stations and using a soap that's easy on the skin after multiple washes is the best way to ensure proper adherence to protocols.
2. Proper PPE
With most of the world wearing face coverings on a daily basis now, Personal Protective Equipment (PPE) has come into renewed focus. Keeping an easily accessible supply of job-appropriate PPE can help not only prevent infection spread, but also make workers more likely to wear it correctly.
3. Disposal Methods
If you're in a facility that uses linens or other reusable equipment, it's necessary to ensure they're being washed/sanitized at the proper temperatures and using the proper-grade cleaning solutions. You might also consider things like touch-free refuse containers to eliminate another touch point.
4. Cleaning and Disinfection
It goes without saying that the most important part of infection response and prevention is cleaning. It's also important to read labels carefully and ensure the disinfecting products are left on surfaces for the appropriate amount of time to kill bacteria and viruses. Bonus tip: don't forget to disinfect high-touch items like keyboards, computer mice, and phones that often go uncleaned.
5. Education and Reinforcement
You probably already have guidelines in place, but do you also offer regular refreshers and reminders to your employees? It's also helpful to hang procedural signs in high-traffic locations, such as a proper handwashing technique poster in the bathroom. Repetition is key to putting protocols into practice.
Vereburn offers many options for PPE, cleaning, and disinfection solutions for a variety of industries.