Home Exercise is Evolving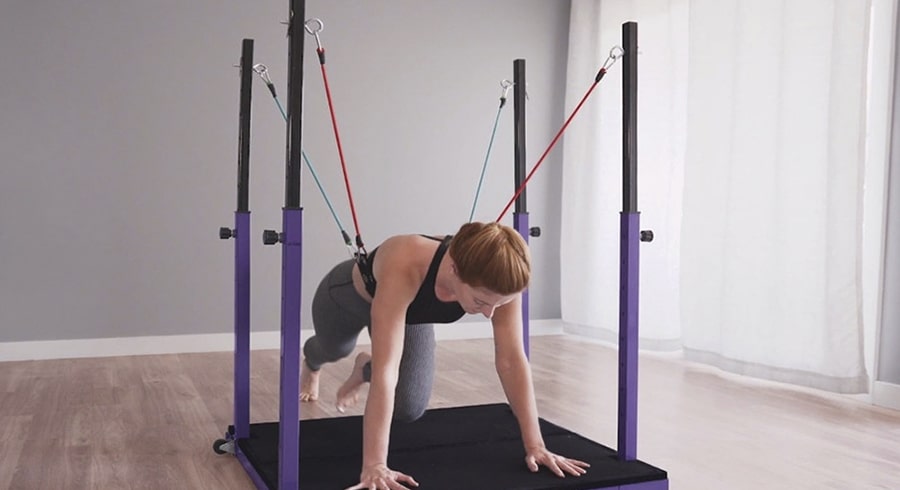 Home Exercise is Evolving: Announcing the EvolutionVN® Home Gym
There's bad luck, and then there's worse luck, and college hockey forward Sabrina Sedesky knows all about both. Committed to a top Division 1 program since she was in 10th grade, Sabrina truly grew up on the ice, having a former AHL player for a dad. She was primed to cap off her senior year with an appearance in her state's annual high school tournament as captain of her team, and was equally excited to begin her post-secondary sports career after this final glory.
Then everything that could go wrong did.
Cutting across the neutral zone with the puck, she thought her speed would put her in front of incoming cross traffic. She was wrong. In the last game of the regular season, she had a knee-to-knee collision with a defender from the opposing team.
"I can't remember if I felt a pop or just heard a pop or both," says Sabrina. "All I remember for sure is feeling this terrible pain that went all through my body and just flopping onto the ice, unable to get up."
Two hours later at hospital, Sabrina found out she had the coup de gras of all sports injuries, the dreaded torn ACL. With her college career on the line, Sabrina knew that the key to getting back on the ice quickly and in top form was going to mean a lot of physical therapy work and strength training exercises.
"I was willing to do all the work, whatever it took," she says. "But then, just as I was about to start my therapy and training to build it back, Covid hit."
With any medical services deemed "non-emergency" cancelled and with commercial fitness gyms closed for an indefinite amount of time, little options were available to Sabrina. "My doctor told me for an athlete to come back from a torn ACL, they need to train and build everything back from scratch. I needed a way where I could incorporate strength and endurance training moves while also increasing my mobility and agility, and I had to find a way to do it with limited resources."
"It was exactly everything I needed in one machine, and easy to use at home. It was perfect," said Sabrina, "I never would've made it back in time to play my first college season without it."
Get Serious About Fitness in Your Own Home
The pandemic has ushered in the next surprising revolution in fitness. A year in, there's no denying that the pandemic has changed many aspects of our lives for good, and physical fitness is one of the industries who has seen the most impact from those changes. According to a recent survey, 3 in 4 regular exercisers say they would prefer to continue working out in their homes rather than go back to a traditional gym. The options for at-home fitness programs thanks to equipment and connected programs like the EvolutionVN along with comprehensive fitness plans provided on aps have made fitness more accessible to a wider range of people than ever before.
The EvolutionVN is a patented design created by engineer and fitness innovator Vu Nuygen, whose commitment to lifelong health and wellness began in his teens, when he found that physical fitness was his way out of low self-esteem and insecurity. Empowered by the confidence that true health provided him, he was determined to inspire that same spark in others, and set about designing both an easy to use, full scale at-home gym and a program of fitness routines that would serve any overall fitness goal, be it building strength or agility, creating better mobility, healing after an injury, or stretching flexibility. The EvolutionVN was specifically created to ensure that people of all body types and fitness levels could use the apparatus with ease.
Vu engineered the EvolutionVN to be the most versatile home gym on the market today, and it delivers. It is compact and can fit in any space in your home and folds up for easy storage when not in use. Using the included resistance bands or parallel bars, you can get a full cardio, resistance, or assistance workout. Unique to the EvolutionVN is the ability to participate in partner workouts, and a full series of combined exercise tutorials on these and all the EvolutionVN workouts can be found on their dedicated YouTube channel.
One of our goals at Vereburn is to provide the highest quality equipment, products, and supplies provide the finest critical care and promote optimum health and well-being. As people continue to make new routines permanent and focus on their health, the EvolutionVN is the next generation of home fitness products to help all achieve their healthiest, best self.